Now with FOMC behind it, this week's market open in $GBPUSD was deja vu. Remember when cable closed above 1.60 for the first time in 5 months? The new market opened chopping around 1.60 before breaking higher to 1.6250. We have the same price action as price now chops around 1.6250.
But not everyone believes in this trend. There are a lot of bears out there.
Retail traders have remained net short on $GBPUSD for nearly six weeks.

— John Kicklighter (@JohnKicklighter) September 18, 2012
That's an incredible statistic in the face of a 500-plus-pip rally. It makes me shake my head to the fact that this pair could run higher just on sheer unwinding of losing positions. Many of these bears point to the sterling's own weak fundamentals. But the fact is the BoE's on-hold (for now) monetary stance is much more hawkish than unlimited QE. The very notion of unlimited money printing is ridiculous. QE-infinity is rightfully killing the USD. Even QE3-backed pounds are more attractive at this point. As such, I think that the $GBPUSD can still run higher. Technically, it has given nothing but bullish signals since breaking and holding above 1.58.
Commented on StockTwits: $GBPUSD Only one lower low in past 13 trading days. stks.co/mAeH

— Peter Brandt (@PeterLBrandt) September 17, 2012
As cable opens the week chopping around 1.6250, it works off its overbought nature without retracement. While I do agree that $GBPUSD is overdue for a pullback, we cannot overlook the power a trend. Don't mistake this chop as a bearish signal. Trends are powerful. I believe this one has just gotten started.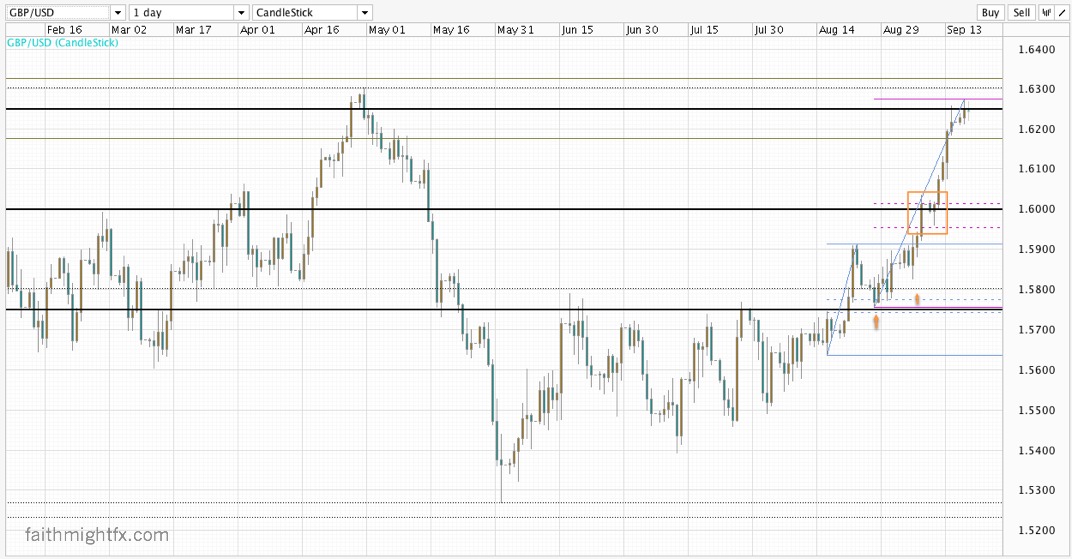 With 1.63 resistance looming not too far ahead (price at 1.6240 as of this writing), time your entries well. Even a pullback to 1.60 doesn't change the bullish outlook short term. Trade what you see.