After hitting the top of the range at 1.6214 to begin the new year, the $GBPCAD has been working its way down towards the bottom of the range all month. Last week, it hit a low of 1.5670 before it abruptly turned and rallied higher on the dovish Bank of Canada rate decision. While the BoC left rates unchanged, they downgraded the Canadian economy sending the CAD lower. Prior to this statement, the market viewed the BoC as hawkish helping drive the $GBPCAD currency pair lower. With this shift in fundamentals, albeit temporary most likely, the currency pair has turned higher on a weaker CAD without the pair hitting the bottom of the range at 1.5400.
With the new high last week at 1.5965, is the $GBPCAD poised to go higher still towards the range highs at 1.6200?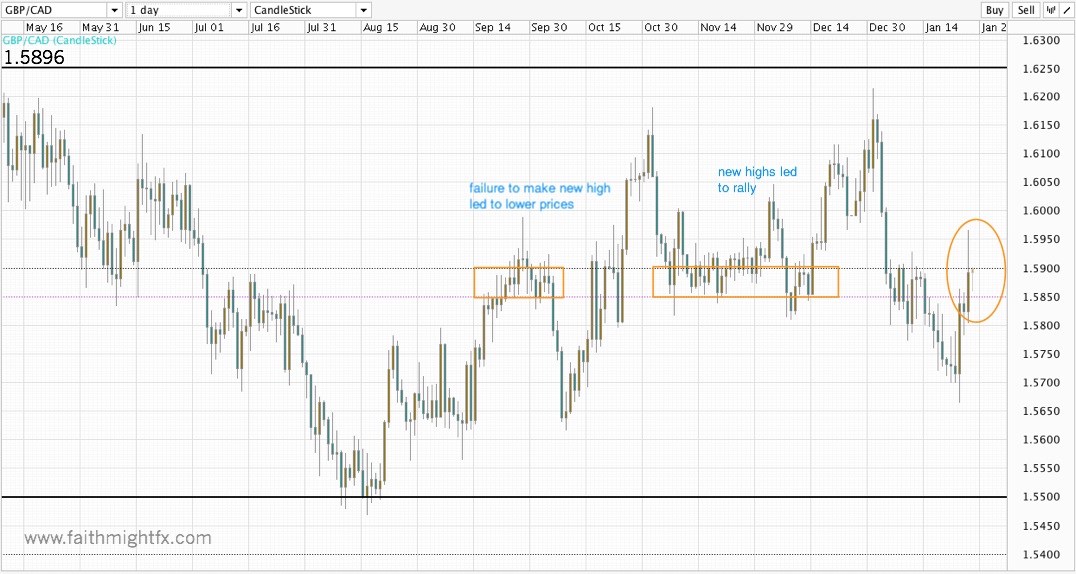 For the answer, watch the area between 1.5850 – 1.5900 for bids. If the $GBPCAD can remain supported by 1.5850 AND make a new high higher than 1.5965, then I suspect this pair can continue higher to the top of the range above 1.6000. After Monday's trading session, $GBPCAD failed to do either and fell to lows at 1.5780. Price action confirmed its bearish direction with a daily close below 1.5800 support. As Tuesday's session opens, the pair is poised to finish its business and hit the bottom of the range.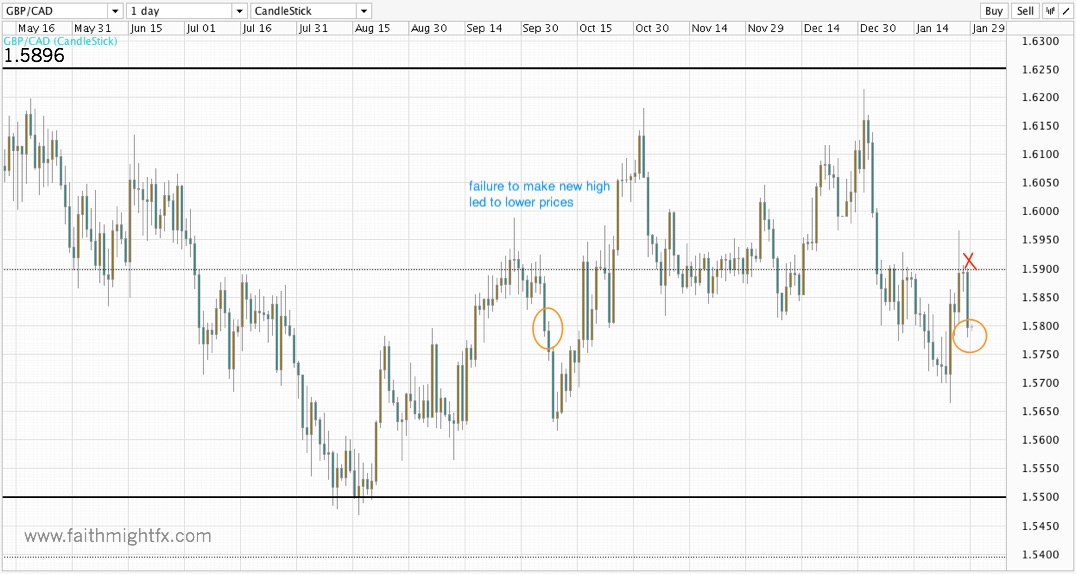 With a very light economic calendar out of the UK and Canada this week, it is entirely possible that we see the CAD continue to strengthen into Canada's GDP release on Thursday. In contrast with the contraction in the UK economy reported last week, the market may rally CAD vs. GBP on a simply positive number. Any number higher than expected will move the $GBPCAD decisively lower to the range bottom at 1.5400.