Last week, I started to have a more bullish stance on $GBPUSD. Price had to get back to 1.5000 or it would start to target 1.5500. Cable gave traders plenty of clues last week, however, the market waited on the BoE . Yesterday, Carney served up his own flavor of forward guidance: hard guidance complete with a dual mandate of inflation and unemployment and complete with 3 exit clauses for wiggle room. Genius. He effectively talked down rates while signaling no more QE and sterling loved it. $GBPUSD finished the business with a new high after holding the Fibonacci levels.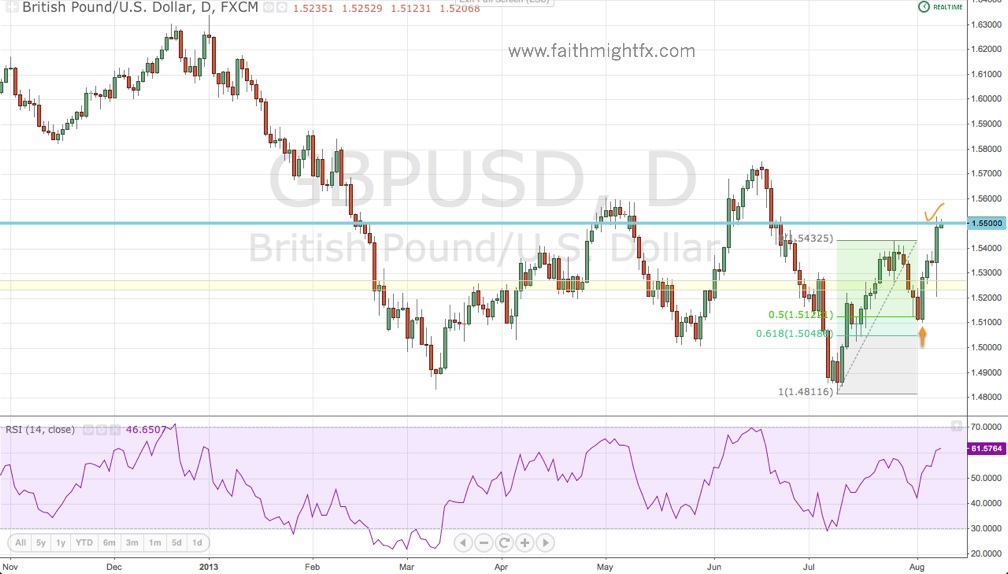 The inflation report caused severe volatility in the markets but despite the high volatility, cable managed to hold the 61.% Fibonacci level of the week's rally off the 1.5100 lows with a slight overshoot and close above even the support zone (yellow). These were very bullish signals that I didn't even trust at first because Carney was still speaking at the time. That hold though was then followed by a break above the 1.5430 highs. After breaking higher, $GBPUSD remained above 1.5430, finding support at previous resistance on a pullback before breaking to yesterday's session highs at 1.5530.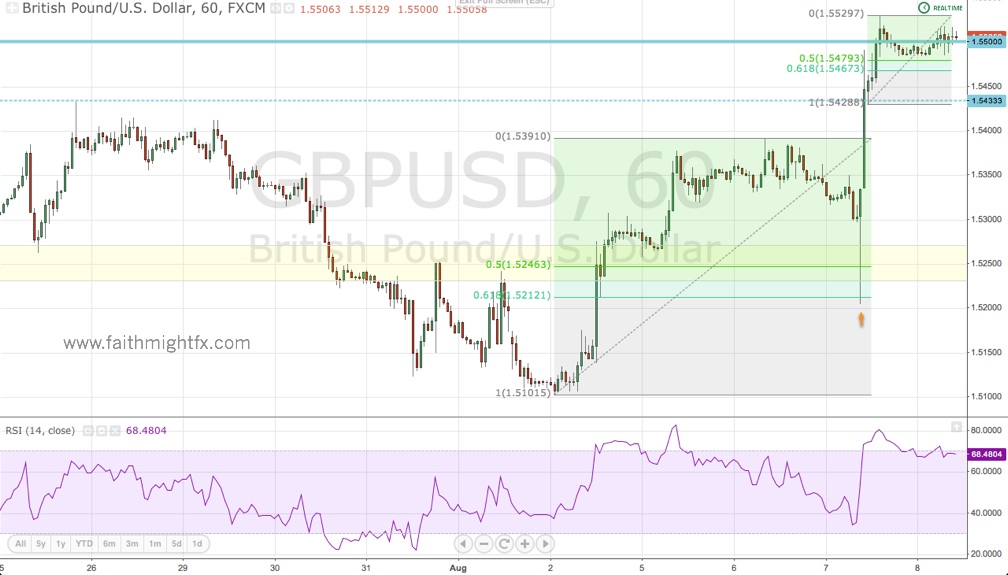 All very technical and bullish action which supports the bulls' case for new highs above 1.5750. While forward guidance may seem very bullish for sterling at the moment, it is how recent economic data lies on this forward guidance spectrum that is giving sterling strength. With solid numbers from both manufacturing and retail, traders feel now as though QE is no longer on the table. I'd say August is a bullish month for the $GBPUSD. However, if the UK economy fails to build on this tepid recovery, it could be very bearish, very quickly for cable. Remember, expectations for growth have actually been revised higher.
Trade what you see.
Mentioned above: