The Bank of Japan (BoJ) has not objected to the recent strength in the Japanese yen. The Japanese yen continues to benefit from the risk aversion flows that are clamoring back into the markets when equity markets crashed around the globe. The recent move lower in U.S. equities has been highly correlated with a stronger Japanese yen due to risk aversion flows in the market. This week, however, risk appetite looks to fuel safe haven selling. Additionally, the BoJ may look to increase its already substantial QE program as early as next month. With deflationary pressures still prevalent in the Japanese economy and signs of softening economic data, the GBP/JPY may not be able to continue its descent lower (Volume 31). The weakening Japanese fundamentals is likely to support a rally in the GBP/JPY on the back of sustained JPY weakness. With the recent lows holding in the buy zone above the 61.8% Fibonacci level, a Fibonacci move could spark a rally back to the 195.50 highs.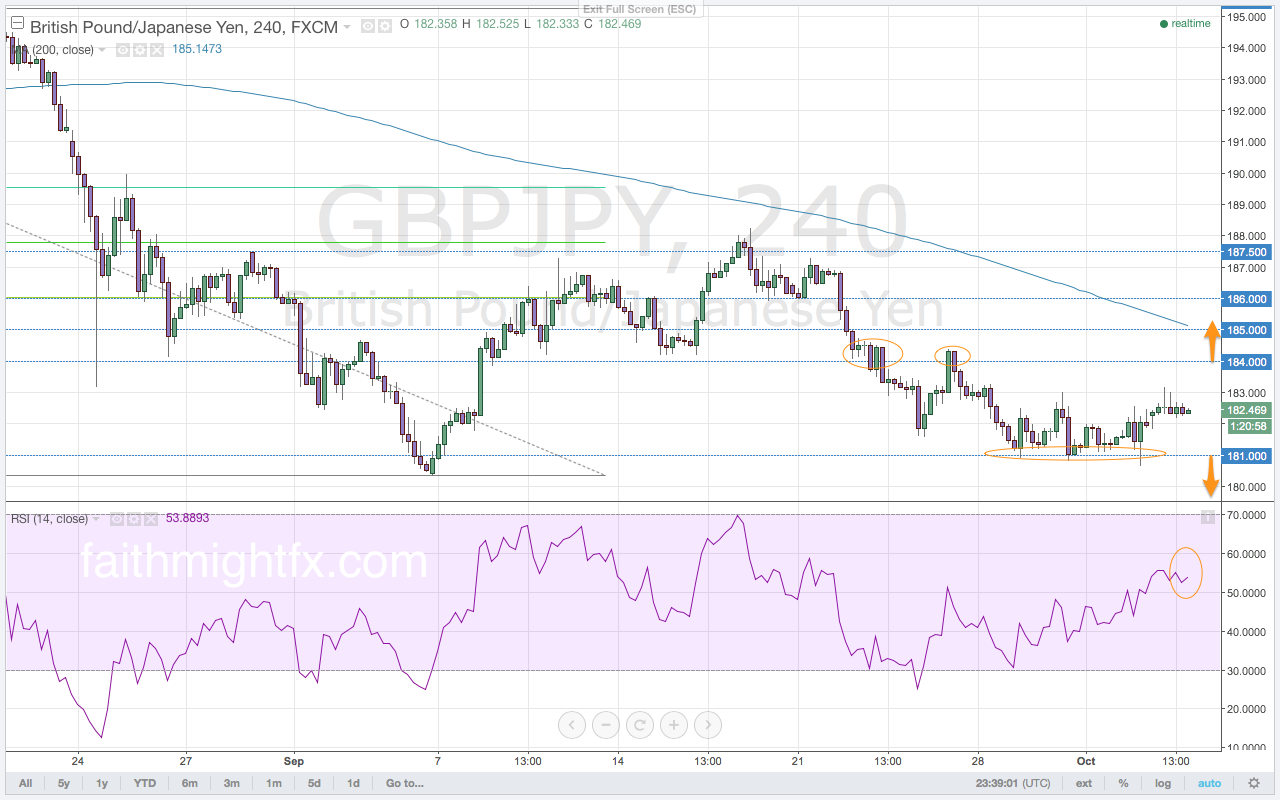 After falling to 180.34, the GBP/JPY staged a corrective rally in the two weeks ago to the 50% Fibonacci level. Making a new high at 188.26 on Federal Reserve volatility in the sell zone, the GBP/JPY made new lows last week to 180.66. Into the end of last week, selling momentum exhausted and price moved higher. The now failed lows signal a move higher for the GBP/JPY. Future direction will be largely dictated by the capital flows in U.S. equity markets. The failed lows in the GBP/JPY also coincide with the aforementioned failed low in the S&P 500. Increasing strength in the S&P 500 will have to overcome the key 2040 resistance level to see a new high higher than the previous 188.26 high in the GBP/JPY. Though a new high can still respect this sell zone, a sustained rally in U.S. equities supports a complete reversal in the GBP/JPY back to the highs. If, however, the S&P 500 retests the 1867 lows, the GBP/JPY can move lower from current levels to its zone of support between 176.20 and 174.86. A confirmed close below the 181.00 support level becomes an early signal of a continuation lower. A confirmed close above the 184.00 resistance level signals a move back to the previous highs above the 188.00 level.
Outlook for the week…
---
This is an excerpt from this week's issue of QUID REPORT. Subscribers receive my research on all major GBP pairs at the beginning of the week, including access to @faithmightfx on Twitter for daily, real-time updates to the weekly report. AVAILABLE NOW.