After waiting weeks for the $GBPUSD to put in a correction of this recent bull rally, cable finally staged a real correction last week. Since the end of April (exactly 4 weeks ago now), the $GBPUSD attracted buyers at the 1.2850 level never allowing for a Fibonacci retracement to take place. For the entire month of May, these shallow dips would produce new highs. So when the rally finally exhausted at the 1.3050 resistance level, the break of these lows around the 1.2850 level was a welcome development for traders waiting for the opportunity to buy the GBP. The correction took cable as low as 1.2774 on Friday. The 1.2774 low has confluence with both former highs and lows at 1.2772 and the 38.2% Fibonacci level at 1.2786. The market has been waiting on this correction the entire month of May.
What's in question now is whether or not the $GBPUSD continues lower or if buyers will now start to step in after this correction. And right now, buyers have stepped in. The $GBPUSD bounced on Friday right at the 1.2772 support level but opens the week already finding resistance at the former lows around the 1.2850 level. The former floor has become the ceiling, which may indicate that further weakness may be in store for the $GBPUSD. As such, we find Friday's buyers taking profits against this 1.2850 resistance level as price is unable to move higher in early week trading action. This initial weakness is also attracting sellers who are now anticipating the failed high at 1.2850 to signal more weakness to move cable below the Friday low.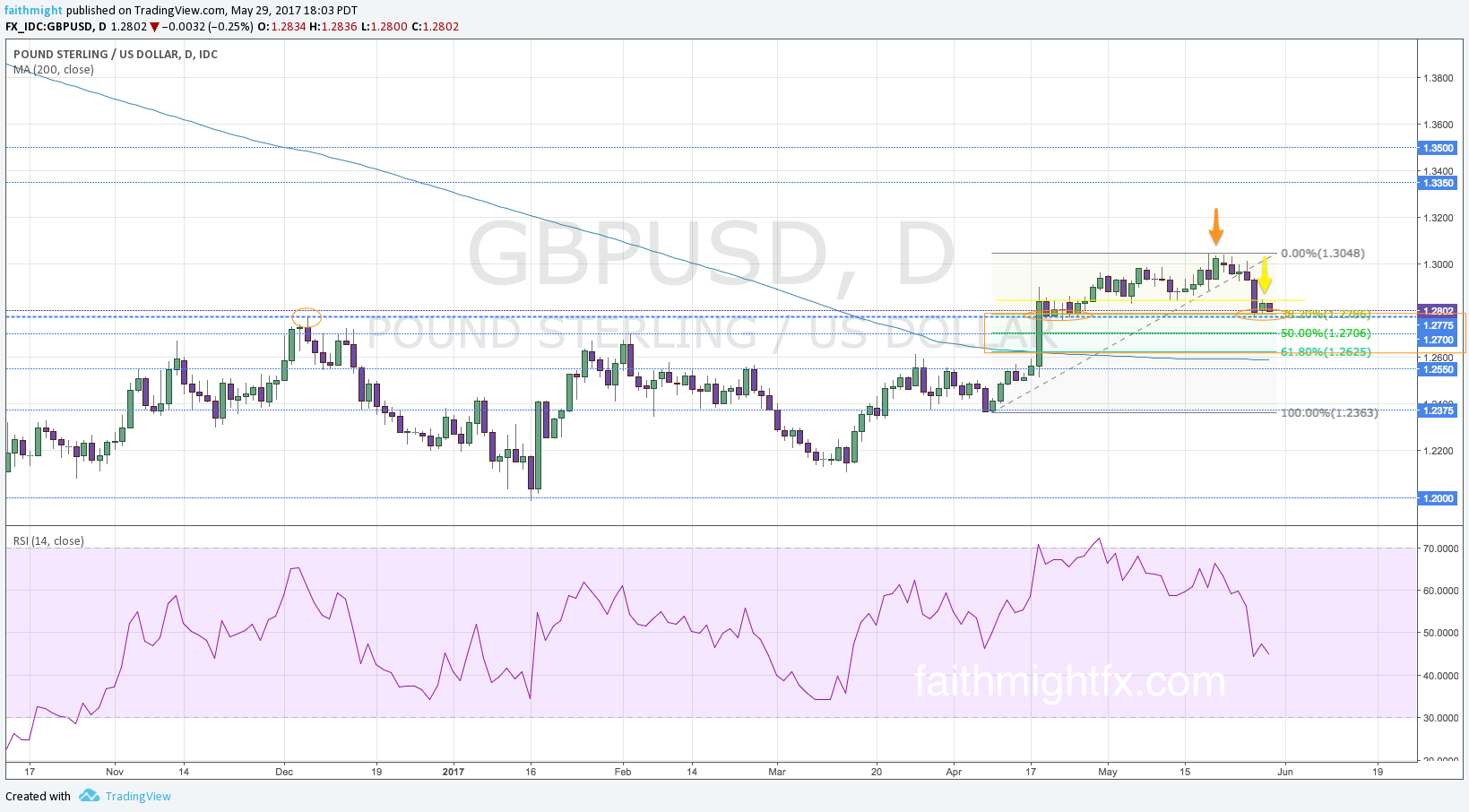 If further downside price action is in store for the $GBPUSD , we anticipate a break below the 1.2774 Friday low to the next support level at 1.2700. There is confluence at this next support level with the 50% Fibonacci level at 1.2706. As the market continues to experience risk aversion flows and anticipate a rosy U.S. jobs report, we could see the $GBPUSD continue to weaken to new lows even as low as the 61.8% Fibonacci level. Once at these levels, any surprise USD weakness will catapult the $GBPUSD higher from what will be in hindsight a brilliant Fibonacci trade setup.
Trade what you see!