Vacation is over. Kids head back to school this week. It's back to business. My family is excited for the routine to return. I'm sure traders are too. It's been a slow-moving, rangebound market.
While vacation may be over, it is still summer. And the $GBPUSD has been rangebound all summer. It's been a choppy range though. Channel traders who stuck through it profited very nicely.  Showing the kids a good time this summer, I mostly watched from the sideline shaking my head. There were days that the market didn't even move. There were days it moved 70 pips. $GBPUSD typically has an ATR of 150+ pips. In a trending market, cable can be a thing of beauty. But it is summer. And the long term downtrend has consolidated into a nice-looking channel.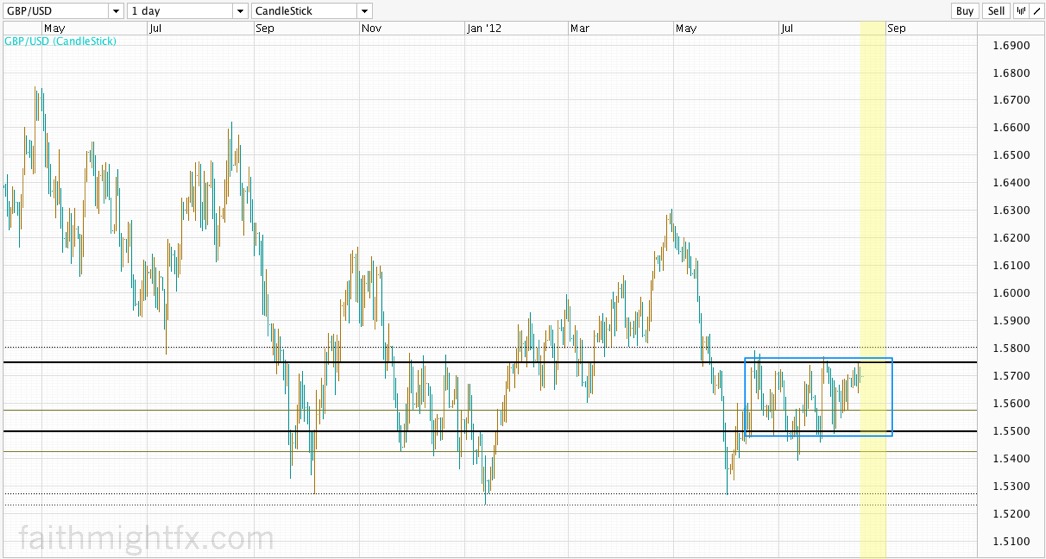 But it takes trust to trade the channel. Given the state of the market right now, it's hard to trust this market. But with several more weeks left of summer, there is little reason for $GBPUSD to move beyond 1.5800 to the upside and 1.5300 to the downside. As traders play the range, we take care not to get lulled by the lazy days of summer. Rather, sentiment is cautious. Will cable actually follow through on its range break? Because eventually the range will break. Until then, we trade what we see.