As the market awaits the first non-farm payrolls (NFP) release of 2013, the Australian and New Zealand dollars have wildly diverged in price action this week. Historically, the 2 currencies move together given their geographical proximity and relation to commodities. But this past week, the AUD has weakened considerably versus the USD while the NZD continues to rally against the USD. The fundamentals have supported this divergence as the RBA is considering interest rates cuts while the RBNZ remains much more hawkish.
As such, I think any interesting GBP trade idea is one that takes advantage the way the USD reacts to the non-farm payrolls report. If the USD weakens, the better play would be the $GBPNZD as the kiwi will advance more rapidly versus a weak USD as it has all week.
A weak USD supports a weak $GBPNZD down to 1.85. On the other hand, if the USD strengthens, then taking advantage of the already weak AUD would make the $GBPAUD the better opportunity.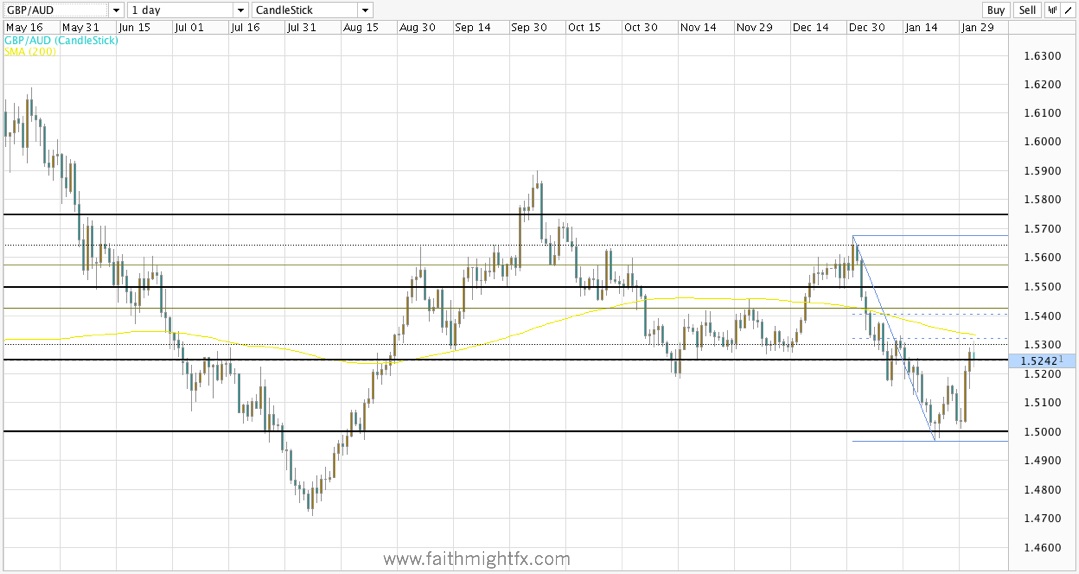 A decline in the $AUDUSD would see the AUD also weaken versus the GBP and extend the rally in $GBPAUD to 1.54, the 61.8% Fibonacci retracement level on the daily chart.
NFP in due to be released in 30 minutes. Given how the aussie and kiwi have traded already this week versus the USD, we can take advantage of either a hit or a miss in NFP expectations without direct exposure to the USD volatility.