The $EURGBP wowed traders last month as it staged a rally not seen in several years. However, since then ECB officials have shown mild disdain for the strong euro. While the $EURGBP staged an impressive bounce off the 0.8440 lows, it failed to even make a new high above 0.8716.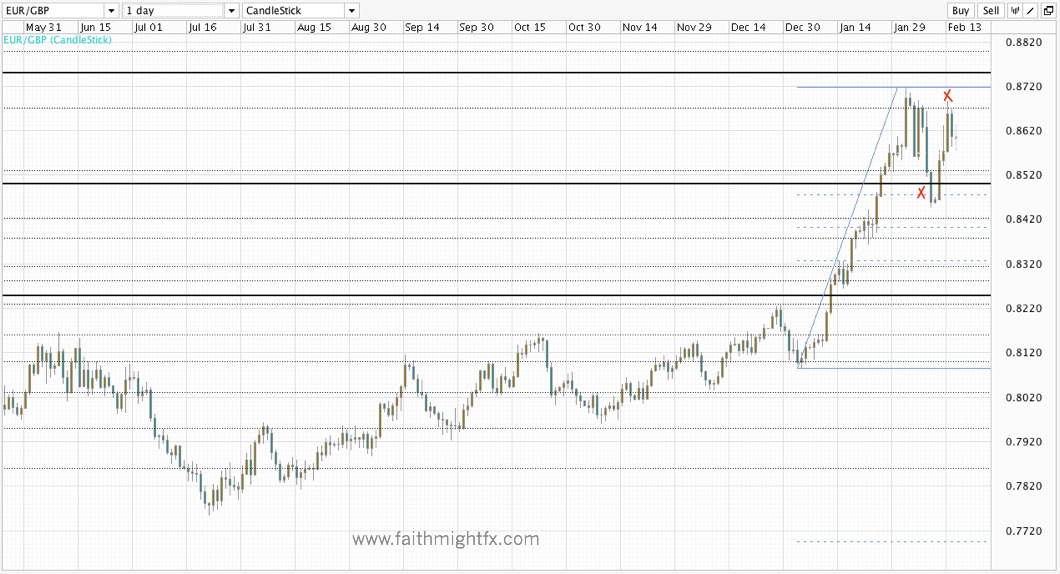 And now the pair is staged to drop lower still. I've been watching and trading the $EURGBP long enough to know that when it breaches the 38.2% Fibonacci retracement level on any given timeframe, you can expect it to continue on to test the 50% Fibonacci level. On the daily chart, looking at the recent bullish wave, we see that price breached that 38.2% Fibonacci retracement level. The aforementioned failed high confirms price will continue lower to the 50% Fibonacci level at 0.8400.
From there, it will be interesting to see how the pair unfolds. The fundamentals have taken a less than rosy turn this week and future data could continue to support an economically faltering EU with little tolerance for the high exchange rate. Price below 0.84 could be the beginning of the end of the euro. Again. But, for now, this is only a correction. Only a daily close above 0.87 changes the impending bearish outlook.