Cryptos are finally making news today and not because of the a 3,000% move in a few weeks. No, every digital coin and token is down today and down BIG. It's blood in the streets now that Jamie Dimon has repented for ever calling Bitcoin a fraud. Markets can be so ironic sometimes that it is poetic. Warren Buffet has to be grinning from ear to ear as he said it was going to end very badly anyway. He must also be buying but that's a musing for another day.
Well, thankfully, I don't trade off the news. You'd be in a pickle right now as to what to do with all those coins and tokens you bought yourself for Christmas. Confess now. We all bought some. The smartest of us only sold and even then, we sold too early.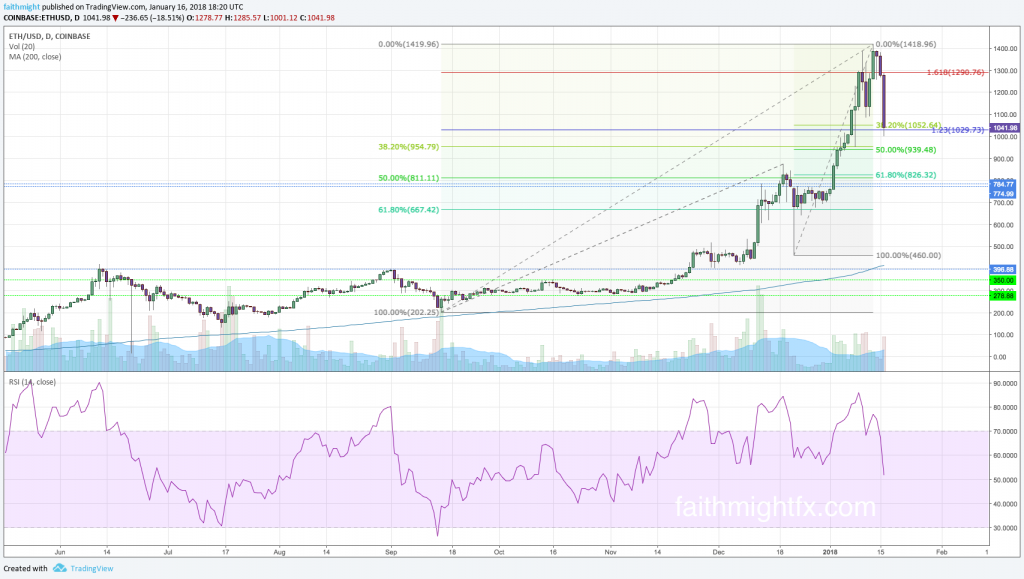 The Fibonacci levels will tell you something different on different charts. So I'll zero in on ethereum because ether is the only coin falling right now from all-time highs. Many of the alternative coins, the forked coins and Bitcoin itself have been consolidating lower since the 2nd week of January 2018. With the euphoric year that 2017 was for cryptocurrencies, you have to love the narrative already shaping for what 2018 will be. But looking at this chart, is it really a bloodbath yet?