The Australian dollar found strength when the Reserve Bank of Australia (RBA) monetary policy minutes confirmed that the central bank would not move on monetary policy again this year. Though the RBA believes that monetary policy needs to remain accommodative, markets have reacted positively to the decision to leave monetary policy as is. The $GBPAUD has since moved in a down channel on the back of Australian dollar strength. Last week, the weakness in commodities finally caught up with the Australian dollar. The Australian dollar finally weakened in the face of extended new, multi-year lows in commodities. After moving to the bottom of the channel, the $GBPAUD respected support at the lower trendline of the channel. Price rallied higher on the back of the weak Australian dollar. A rally in the $GBPAUD was expected to rally back to the trendline at the top of the down channel. Given the velocity of the moves in commodities, the $GBPAUD managed to return to the top of the channel in just one week of trading. While the $GBPAUD was met with profit-taking just ahead of the key 2.1200 resistance level, the new trading week opened with a move above resistance to 2.1216. However, sellers stepped in at the highs ultimately respecting the upper trendline resistance and moving price back to the key 2.0800 support level.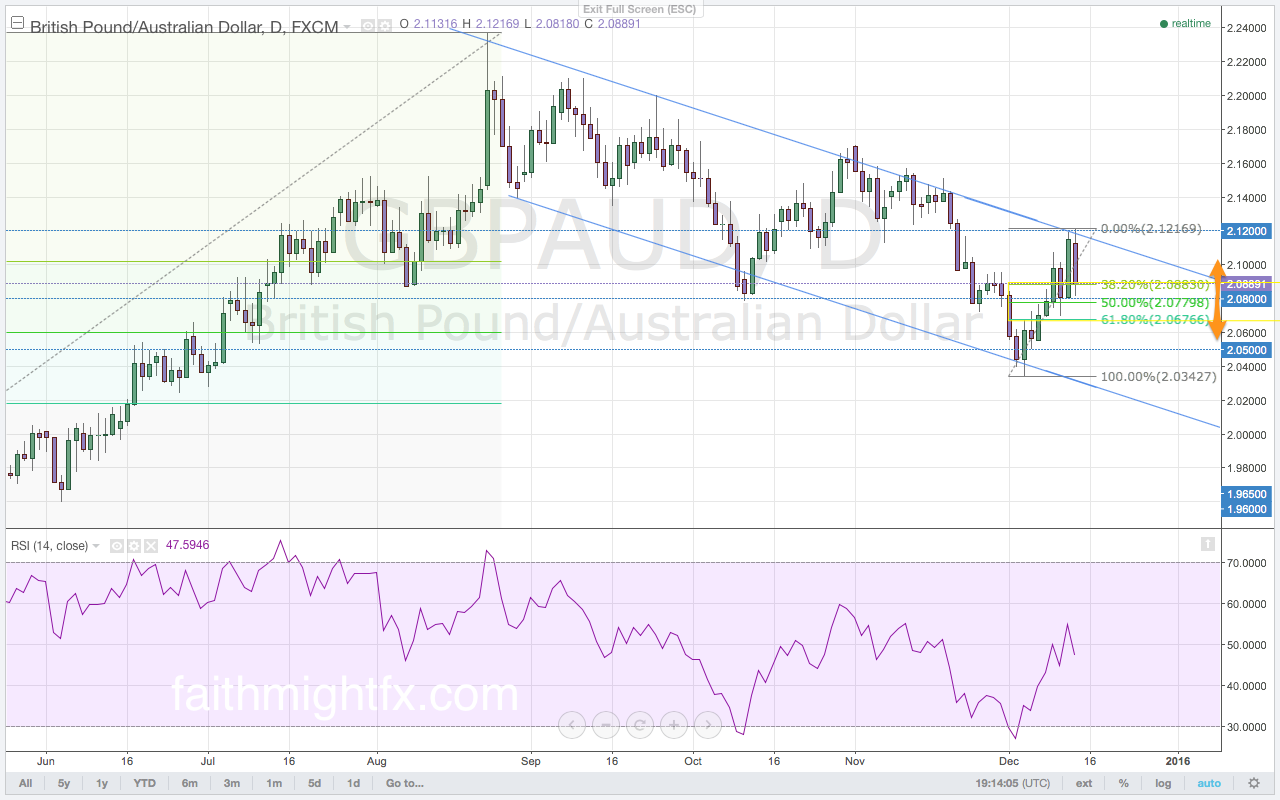 The top of the channel here has confluence with the key 2.1200 resistance level. For the $GBPAUD to continue to rally, the $GBPAUD needs a confirmed close above the 2.1200 level. Ahead of the channel bottom is first the major 2.0800, now turned, support level. There is also confluence with that support level at the 50% Fibonacci level of last week's rally. The 2.0800 level remains the key level for direction. With no confirmation on the break above the 2.1200 level, the $GBPAUD actually opens the new trading week bearish even with a Friday close at the highs. The $GBPAUD continues to trade in this channel. As such, after reaching the top of the channel, the $GBPAUD is biased bearish based on the technical developments in price action. Price has already moved to 2.0818 finding support just above the 2.0800 support level. With commodities crashing again as they did this time last year, the Australian dollar should experience another tremendous selloff. However, $GBPAUD price action suggests further Australian dollar strength in the face of weak commodities.
Premium trade setups with targets and stops are published in the $GBPAUD Outlook for the Week (Volume 42, this week's Quid Report).