The USD is mired in political nonsense. From the debt ceiling showdown last summer to the fiscal cliff this new year, American politics has toyed with the USD for much of 2012. If magazine covers are any indication, we can expect more ratchet politics in 2013.
With the fundamentals so foggy, I have become very weary of trading the USD. Its price action has been a reflection of both risk and fundamentals which hasn't always led to very clear swing moves. And as such, I have been trading my favorite currency pair less and less these days.
The $GBPUSD moved higher as expected since the Thanksgiving move back above 1.60. When 1.63 held as resistance, it looked as though cable would remain rangebound. But thanks largely to the fiscal cliff nonsense, cable staged a breakout above the 1.63 resistance level and managed a daily candle close above 1.6300.
Despite the current bullish momentum, the $GBPUSD is still rangebound in the longer term…We still do not have true direction in this pair until it can close above 1.6300 or below 1.5230. (November 25, 2012)
Though we got a daily candle close above 1.63, price crashed. But cable is not exactly bearish…yet.
The 1.6381 high broke a triple top at 1.6300-10 and rallied 70 pips higher before exhausting. In addition, the new 1.6381 high is a higher high after price held the 61.8% Fibonacci retracement level which is very constructive price action.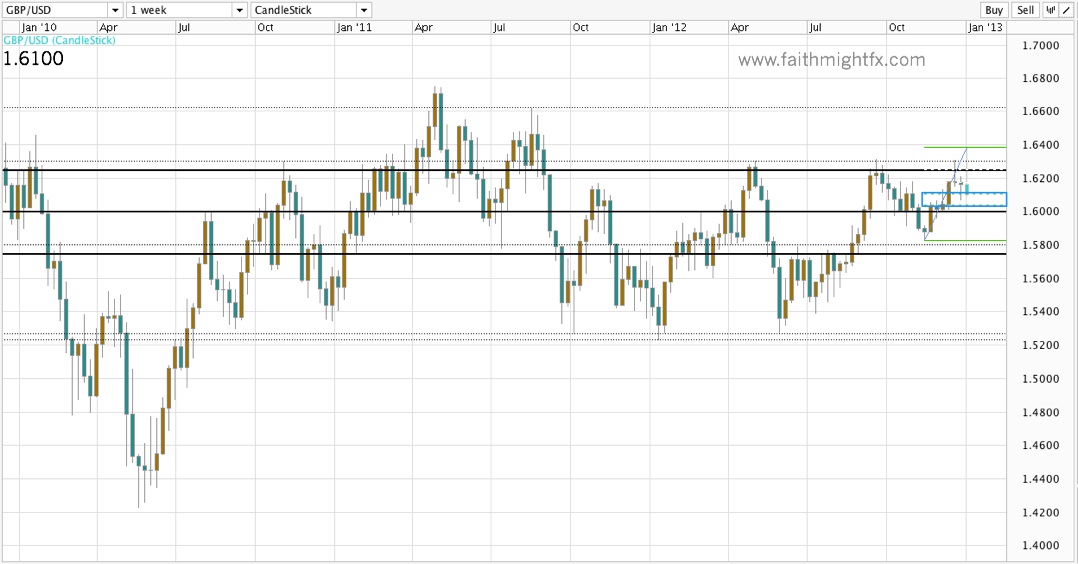 The recent price drop is still merely a correction of the rally. This quote I saw today on StockTwits also makes me think that the recent high is a range expansion. If that plays out and cable holds the 61.8% Fibonacci level at 1.6039, we can expect $GBPUSD to rally back above 1.63. However, if 1.6039 is broken below, a daily close below 1.60 confirms the currently bearish price action.