Last I wrote on the $EURGBP, the pair was building a bullish scenario above the major psychological level at 0.8000. Since then, the $EURGBP managed to move higher making new monthly highs at 0.8230 to end 2012.
Now, the fundamentals have aligned to make this trade even more attractive. First, the Olympic glory has faded from the British economy with calls for a triple dip recession in store for 2013. EU fundamentals, on the other hand, have stabilized as ECB President Mario Draghi managed to calm financial markets with new QE schemes introduced and bolstered in 2012. To be clear, the economies in Germany, France, and the PIIGS are still very weak. But after dealing with Greece and the PIIGS for so long, the UK managed to get through 2012 with very little market attention to its own weak economic state. Now that the ECB has finally decided to shore up the EU, the market's attention has now turned to the UK. This new contrast in fundamentals could help bolster the $EURGBP to new highs in 2013.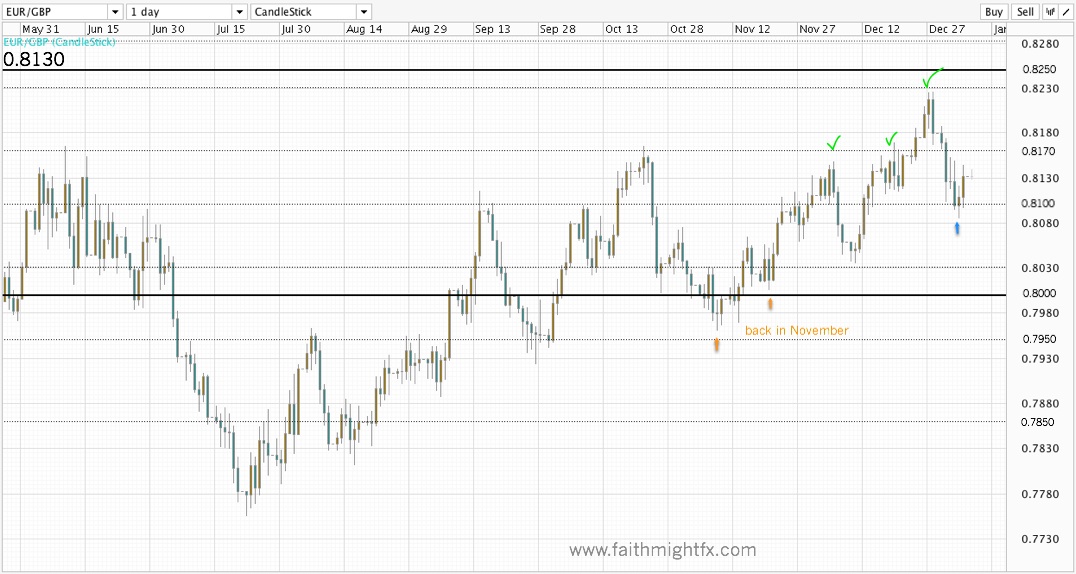 Since the new December high, the pair has corrected lower to the key 0.8100 level to kick off the 1st trading days of 2013. Despite spikes below the level, $EURGBP never managed any bearish momentum below 0.81. After the week's close well above 0.81 and the new shift in fundamentals, look for this pair to make new highs above 0.8230 in the days and weeks ahead.