When the Reserve Bank of Australia (RBA) made no changes to monetary policy, the AUD managed to strengthen. In light of the recent strength, the RBA has taken to jawboning to weaken the Australian dollar. RBA Governor Stevens released comments as the new trading week opened that sent the AUD lower. Despite the strong jobs report last week and heating housing market in Australia, the RBA still has interest rate cuts on the table for future monetary policy adjustments. In fact, the RBA feels like the AUD can stand to move lower still. These remarks have already sent the AUD lower across the board in early trading.
Since the rally to 2.0027, the $GBPAUD has been on a corrective move lower. This move lower has allowed the overbought momentum that took the $GBPAUD to those multi-year highs to work lower. While still firmly planted in bullish territory on the RSI, momentum is at more reasonable levels. Momentum suggests that a rally higher is still a strong possibility as the RBA sets out to weaken the AUD. Additionally, since the break above the large 38.2% Fibonacci level at 1.9188, price has not managed to close below that level. Even on the decline to 1.8827, the $GBPAUD still closed that month back above the big 38.2% Fibonacci level. Just as hawkish fundamentals were set to push the $GBPAUD lower, the RBA has stepped in to keep the doves in place.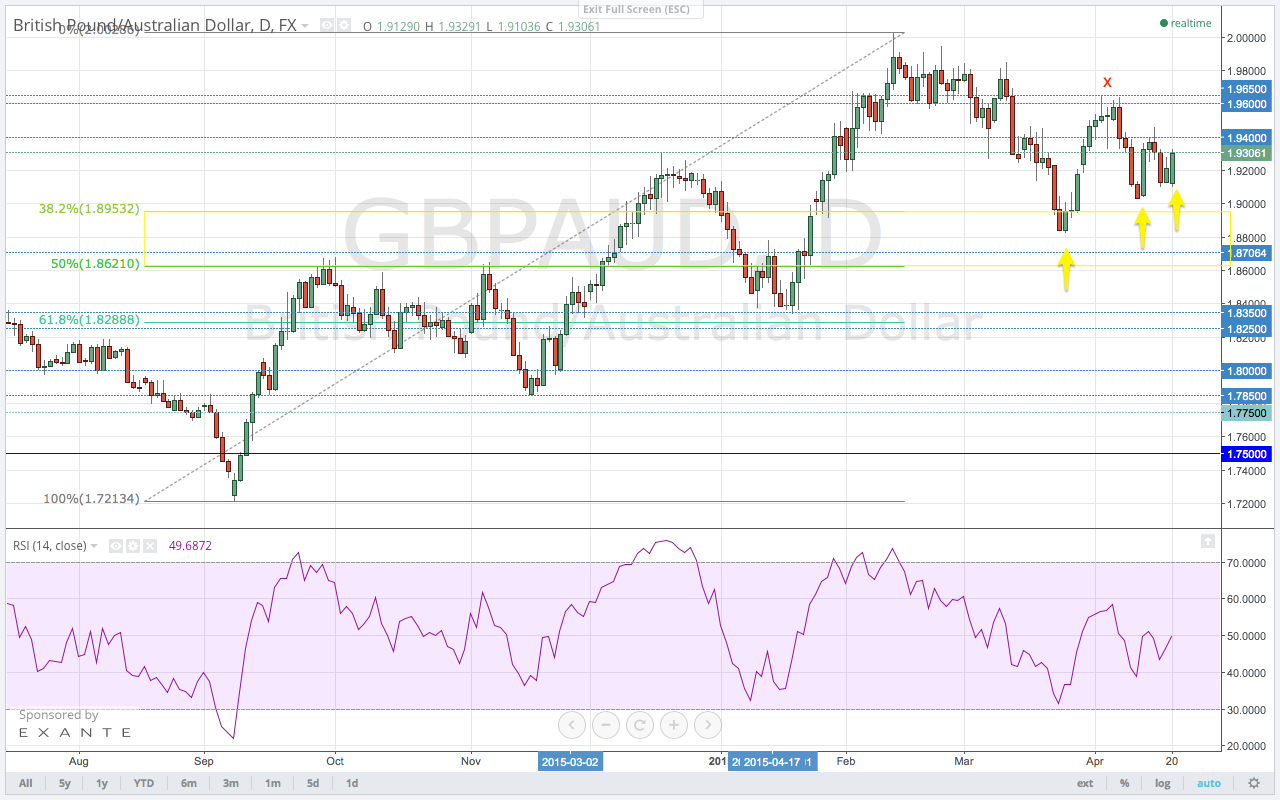 After price moved to 1.8827, the $GBPAUD made a failed high right at the 1.9650 resistance level. This failed high is supposed to result in a new low below the 1.8827 low, presumably into the 50% Fibonacci level at 1.8612. But this move lower is a tough go. The market has been unwilling to move lower despite the failed high and strong economic data out of Australia. In fact, price is putting in higher lows on the daily chart. This was not the action expected after a failed Fibonacci move and robust economic data. However, it is now clear that the RBA must be intervening in the currency markets to keep the AUD weak. Now that the RBA has made it very clear that they intend to keep monetary policy accommodative to achieve a weaker AUD, the market has started to move now in accordance.
---
This is an excerpt from this week's issue of Quid Report. Subscribers receive my research on all major GBP pairs at the beginning of the week, including access to @faithmightfx on Twitter for daily, real-time calls and adjustments to the weekly report. AVAILABLE NOW.