In the last quarter of 2012, the $GBPNZD pushed lower to the bottom of the channel at the 1.90 major large quarter point and psychological level. This new low broke strong support levels at 1.9370 and 1.9270. So while it certainly seemed that kiwi was staging a breakout against sterling, $GBPNZD failed to push to new lows below the previous 08/14/2012 low at 1.8962. Instead, price bounced off its channel bottom and headed all the way back to the top of the channel at 1.98.
With the range top at 1.98 holding as resistance, price moved decisively lower with spikes below 1.95 in the 1st trading day of 2013. If momentum continues, price should move lower to the bottom of the range and test support levels at 1.9370 and 1.9270.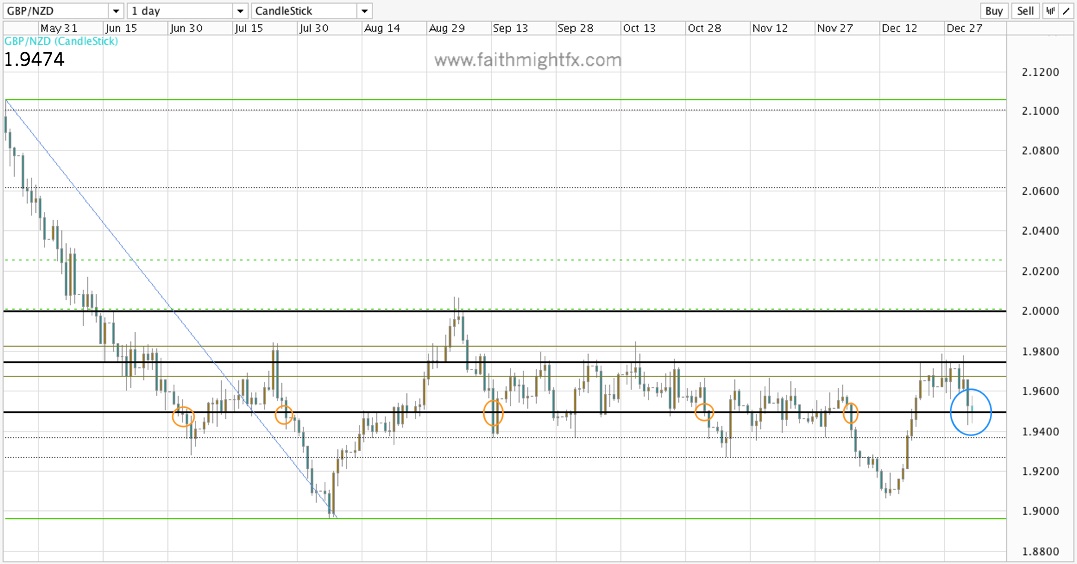 Looking at the daily chart too, candle closes below 1.95 have led to more price moves lower.  So while short term momentum looks bearish, the $GBPNZD is still rangebound on the bigger timeframes.