$GBPCAD in in a long term bear trend evident on the weekly chart. However, it has spent the last 2.5 years stuck in a wide 1000-pip range between 1.6400 and 1.5400.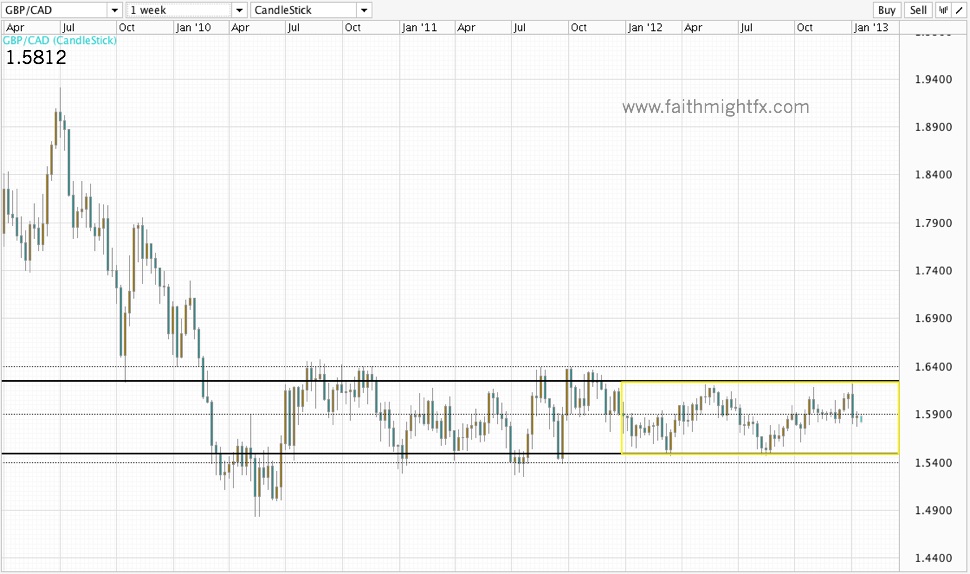 It also interesting to note that this range has been narrowing over the last 12 months. A narrowing range is typically a small hint that the prevailing trend is getting ready to resume. Fundamentally, the Canadian economy has posted some surprisingly strong numbers so far in 2013. Meanwhile, the British economy is not fairing very well at all. This sharp contrast in fundamentals helps fortify the long-term bear trend.
For now, the $GBPCAD is very much rangebound. Even a close below the range bottom at 1.54 still would not signal a resumption of the long term trend. It would take a close below the 2010 lows at 1.4835 before this pair can truly break out to the downside. And that level is still a long way off. Best for now to trade the range.