So here we are with $GBPUSD back above 1.7000. It is the first time since 2008 since we've traded at these levels. To me, nothing is more bullish than $GBPUSD above 1.70, $EURGBP below 0.80, $GBPAUD above 1.80 and $GBPJPY above 170. But the bears are milling and are suspect of these rallies.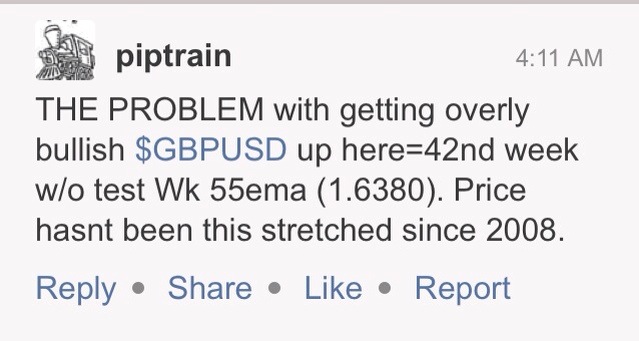 I admit I'm wary too but for another reason. $GBPUSD hasn't had a decent correction yet.
This was Monday. Since then, $GBPUSD has staged a correction to 1.9950 support from the 1.7050 highs. $EURGBP retraced 38.2% to 0.8030 this week. And I think that's all we will get. Another Friday close above 1.7000 in cable after more remarks from Carney this week is a bullish indication. The fundamental landscape clearly still supports a strong GBP. What can turn the sterling tide? Mark Carney, of course.