The release of the meeting minutes from the Reserve Bank of Australia (RBA) was met with AUD selling. The RBA maintained its dovish sentiment despite not making any changes to monetary policy at its last meeting. They, too, downgraded their economy. Even though the Australian labor market is still strong, households are laden with debt and are simply not spending money. While officials at the RBA expressed satisfaction with the effects of current monetary policy, they believe policy needs to remain accommodative. It is their assessment that the economy still requires a weak AUD trading at even lower levels. The minutes confirmed the dovish remarks from RBA Governor Stevens just the week prior. As a result, the $GBPAUD continues its rally to new, multi-year highs.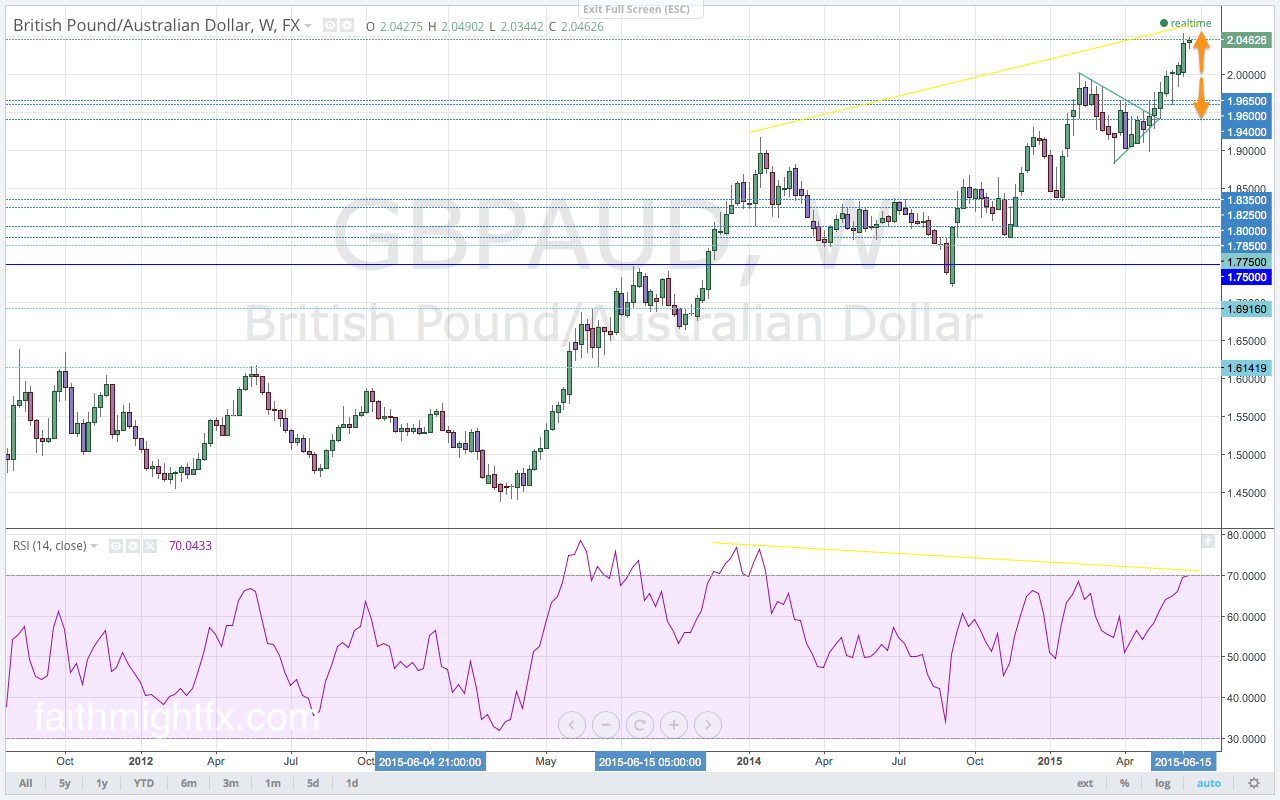 Momentum continues to build a bearish divergence with every new high. Last week was no exception. There still remains a bearish divergence that suggests the $GBPAUD is due for a correction. Despite the divergence in momentum, the $GBPAUD is in breakout mode. It has soared to new highs and continues to close above the important 2.00 support level. But the decreased buying momentum is glaring. The new highs at 2.0548 were accompanied by even more bullish momentum than last week's new highs. That is a good sign for buyers this week. It suggests that fresh buyers are back in the market assured by the dovish RBA.
The $GBPAUD has maintained an orderly rally even with the dovish RBA. Momentum followed with building bullish momentum following the rally to new highs. Last week, however, the $GBPAUD established new highs on the daily chart with less momentum than at the previous high price. With diminishing buying momentum on these new highs and a bullish close, a breakout higher could produce a false break. If price is unable to hold above the 2.0344 lows with adequate buying demand, the buy zone at the Fibonacci levels will come into play.
---
This is an excerpt from this week's issue of Quid Report. Subscribers receive my research on all major GBP pairs at the beginning of the week, including access to @faithmightfx on Twitter for daily, real-time updates to the weekly report. AVAILABLE NOW.